It's a Swing Wing!!

Dontcha wish you were a kid growing up in the 60s? Perhaps you were, and you did, and for that my friend – we all envy you. But for those of us who have not had the pleasure, all that's left are our parents' stories and this undeniably stellar video to live through vicariously.
A while ago I came across this vintage commercial, circa 1960, and it just blew my mind.  You've gotta see it to believe it.
The subject of the commercial is the "Swing Wing". Swing Wing is a toy, similar to the Hula Hoop, worn on the head and twirled by moving the neck and/or body in a back and forth motion. It was developed by Transogram Games and introduced in 1965. The toy has received recent notoriety appearing on Fox News Channel's late night show Red Eye with Greg Gutfeld on May 22, 2008, G4's Attack of the Show and The Ellen Show. It has been speculated that the toy was recalled due to injury suffered in the necks of children caused by the continual jerking motions required to use the toy.
Gee, you don't say!!
It's a fun thing! It's a lawsuit!
Seriously, didn't they have lawsuits back then?  Where was Ralph Nader when you needed him? Oh – I know where he was – he busy trying to prevent automobile manufacturers from murdering us and our children.
(Nader's first consumer safety articles appeared in 1959, which is also when he first criticized the automobile industry in an article he wrote for The Nation in 1959 called "The Safe Car You Can't Buy."  Six years later, he published his seminal book on the auto industry, an exposé called Unsafe at Any Speed.)

Perhaps Mad Men have been on my mind a bit too much lately, given the long-awaited season 5 premiere coming at us at the end of the month, but I'll spare you the excuses and share another little gem;
Remember this?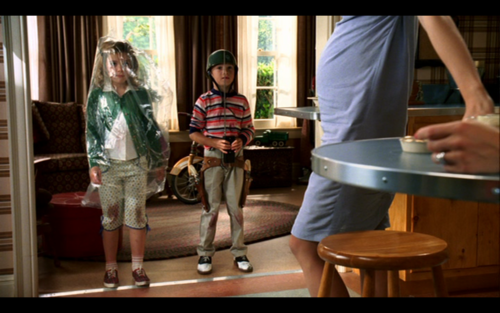 Betty: Sally Draper, come over here this minute. If the clothes from that dry cleaning bag are on the floor of my closet, you're going to be a very sorry young lady.
Moments like this, though shocking and hilarious, really serve to remind us that children today (including my own) truly live a sheltered and overprotected existence.
Having said that – I have to channel Nader again and say that car safety is the one thing which has me completely terrified…  I like my cars with anti-lock brakes, air bags and the three-point seat belt thankyouverymuch!   Sure, I grew up without all those fancy things, but let me tell ya, it doesn't make me any more comfortable with the concept – quite the contrary. That is why, love him or hate him, we all potentially owe our lives to Nader and his crusade for our safety.
Before I get too far into it, here are some thoughts on childhood and the 60s from the Mad Men themselves:
What do you think?  Does the issue of safety today, as integral as it is, impede on the children's freedom and experience? Does it hinder their development while helping keep them alive?
It's certainly a touchy subject.  Me – I try to maintain a balance for my kids;  Though they spend each school year in their North-American safety paradise, they spend their summers in our home on the Adriatic Coast.  There, they definitely get their dose of that old-school unsupervised outdoor play, with all the implied "dangers" lurking around every corner…  where we still encounter questionable toys, cars without seat belts and pregnant ladies blowing smoke in our faces.
And despite everything, the kids agree – it's a fun thing 🙂